5 Best Snacks to Maximize Good Fortune this Chinese New Year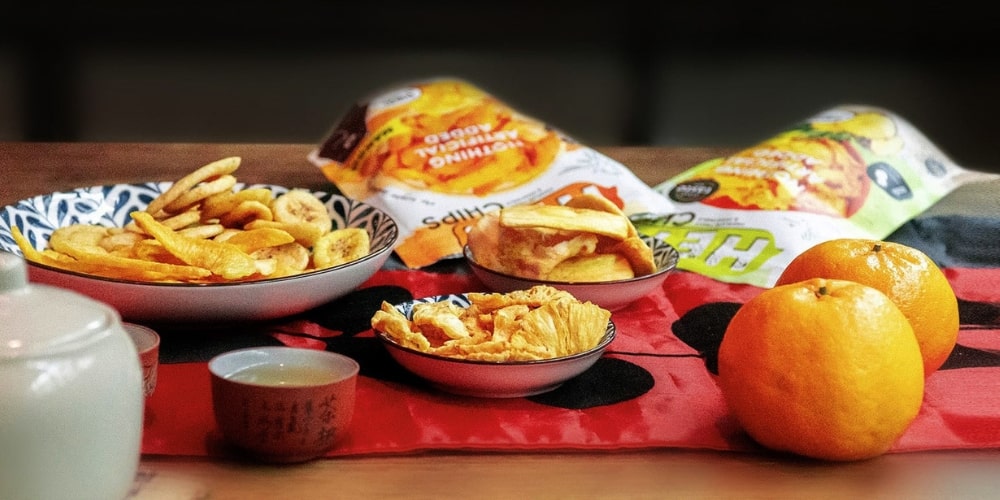 It's that time of the year again: time to be bombarded with the same well-meaning but repetitive questions, from loving but nosey relatives. That's right - it's Chinese New Year! 
There's nothing wrong with enjoying your favourite CNY snacks during the upcoming celebrations. But to those seeking healthier alternatives which provide that same flavorful kick - fret not, Hey! Chips has you covered!
You can snack on our chips in a variety of ways - including over the holidays! Add them to your reunion dinners, your Trays of Togetherness, snack on them while spending time with your loved ones or even over a game of mahjong!
Why our chips instead of the typical Chinese New Year snacks? Well… let's go down the list.
1. Pineapple Chips

As pineapples are translated as "ong lai" in Hokkien, which also means "prosperity comes", pineapple tarts are a staple snack of Singapore's Chinese New Year celebrations. But for those counting calories, did you know consuming even one small pineapple tart nets you around 93 calories? Which is still fine - as long as eaten in moderation. Those wanting to savour the sweet and sour tanginess of pineapple without the calories, however, can pursue a low-calorie, zero-sugar alternative in our Pineapple Chips. Tastes just as delicious as regular pineapple - with an added crunch! 
And of course, our award-winning Pineapple Chips made an appearance in Pizza Hut's newest Chinese New Year special, the Sweet and Sour Chicken Pizza! Don't miss out - try one today, before the pizza disappears on 28 January!
2. Mango Chips

Mango strips are sometimes used in certain variations of yu sheng, the tradition where families throw food into the air during their reunion dinners.
Ingredients are often a mix of soft and crunchy, so why not try adding mango chips to your yu sheng this year for that extra crunch? 
Our Mango Chips are crisp, fragrant and aromatic, making them the perfect addition to your reunion dinner.
3. Hey! Chips Trail Mix

Nuts and peanut cookies are a common and convenient finger food eaten during Chinese New Year gatherings. Peanuts also represent longevity, life, wisdom and prosperity. Instead of the usual sugar peanuts, which are deceptively unhealthy for their small serving sizes, why not try our Fruit and Nuts family packs? Our nuts are baked with the same healthy methods as our fruit and vegetable chips, ensuring maximum nutritional value with earthy, nutty goodness in every bite. Among these nuts are either Pecans, Walnuts or Cashews, with cashews being particularly auspicious due to their resemblance to gold ingots.
With our Banana, Mango and Pineapple Chips, these trail mix boxes create a delightful combination of flavours!
4. Cherry Tomato Chips

Red is the luckiest colour in Chinese culture, representing wealth, vitality and success, which is why Chinese New Year decorations are so vibrantly red, and why all your Chinese relatives dress in bright red outfits. If you're looking for something red to munch on during the festivities, look no further than our Cherry Tomato chips! 
Our vacuum-dehydration tech preserves the natural red colour of the cherry tomatoes perfectly, creating an appealing and attractive snack that's as good on the eyes as they are for your body. If you can't get your hands on the traditional Red Dates, our Cherry Tomato chips are the next best thing!
5. Banana Chips

Our Banana Chips have all the sweetness of regular bananas, making them a crunchy crowd favorite, especially with children. They're one of our bestsellers for a reason!
If you're looking for other candied fruits to add to your Tray of Togetherness, you can't go wrong with our Banana Chips! 
6. Editor's Choice - Onion Chips

What's this? A sixth option?
Our Onion Chips are beloved for their taste, with some customers even likening them to the most popular potato chips on the market.
So instead of bingeing your usual potato chips over the holidays, which are often overloaded with fat, salt and unhealthy additives - get that same burst of flavor with our healthy Onion Chips!
With that, we've reached the end of our list!
No matter what you snack on, we wish you a healthy and auspicious Happy Chinese New Year and we look forward to serving you more delicious snacks in 2023!